Join Ryan Holiday and other prominent leaders!
Sign up for the Daily Stoic Leadership Challenge: Ancient Wisdom For Modern Leaders
"For I believe a good king is from the outset and by necessity a philosopher, and the philosopher is from the outset a kingly person." — Musonius Rufus
What are the traits of good leaders? Who should you model for leadership? How can I be a better leader - of my family, company, team, audience, group of friends, or myself?
We created this course, The Daily Stoic Leadership Challenge: Ancient Wisdom For Modern Leaders, to answer all those questions and more.
For thousands of years, the Stoics have not only been leaders, but the resource other leaders have turned to for advice and guidance:
George Washington quoted Cato to spur and deter his troops.
John Adams declared that "all the ages of the world have not produced a greater statesman and philosopher united in the same character" as Cicero.
Admiral James Stockdale knew Epictetus' works by heart and recited lines regularly.
General James Mattis didn't enter a battlefield without Marcus Aurelius' Meditations
What is the cost of not living up to your potential as a leader?
Maybe it's a missed promotion at work, an unnecessary argument at home, a lack of respect from peers. No matter what your situation, it's always possible to become a better leader. To make situations and people better.
And the best way to learn leadership is to "go straight to the seat of intelligence" as Marcus Aurelius put it.
That's what we did in this course. We designed this 9-week course to mirror the kind of education that produced historically great leaders like Marcus Aurelius. Specifically, we built it around one of the key lessons from Marcus's own development: the idea that leadership is less a position and more a process.
Indeed, Marcus worked at it day after day, as you would do when perfecting a skill or getting in shape. You don't work at it for eight hours a few times a month or go to a week-long intensive retreat every year. No, you work at it diligently and consistently, a little bit each day.
Each week WILL FOCUS ON A NEW THEME:
Week 1: Becoming a Life-Long Student of Leadership

Week 2: Mastering Your Emotions

Week 3: Dealing With People

Week 4: Preparing For and Getting Through Adversity

Week 5: Decision Making

Week 6: Problem Solving

Week 7: Culture

Week 8: Leadership Philosophy

Week 9: Leadership Challenges
Participants will receive:
9 weeks of custom emails—written by bestselling author Ryan Holiday (63 total emails, over 30,000 words of exclusive content)
Weekly Leadership Deep Dives**—recorded video sessions with Ryan Holiday and a prominent leader we chose because of their expertise on that week's theme
4 Leadership Q&A's—2 hours of recorded video Sessions with Ryan Holiday and entirely dedicated to questions from the original course participants
Course Calendar—a 9-week printable calendar filled with custom illustrations and graphics to help track progress
Leadership Slack Group—a community area to connect with and learn from all the other leaders in the challenge
Each day you will receive an email that helps you take the right steps along that week's path. Not only have we assembled the best Stoic wisdom on what it takes to become a great leader, we've also assembled some of today's great leaders to be for you what Antoninus was for Marcus.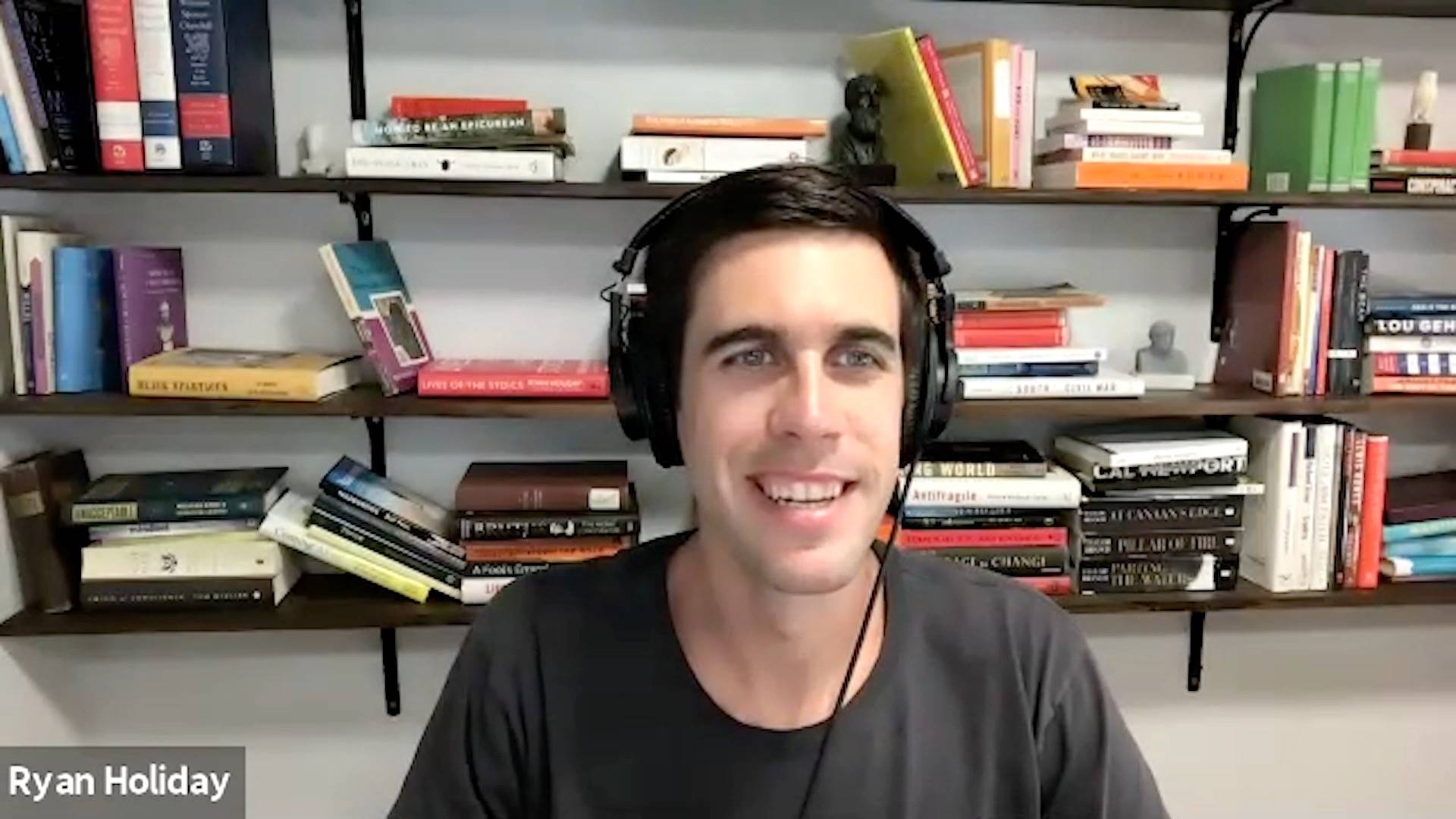 AND once a week, there will be a recorded video session where Ryan Holiday will be joined by one of those prominent leaders as his guest for a one-on-one conversation about topics relevant to the week's theme, after which they take questions from the original live course's participants.
The prominent leaders will include:
Randall Stutman - Founder of the Admired Leadership Institute
Dr. Lisa Barrett - Among the top 1% of the most-cited scientists in the world
Robert Greene - Bestselling author and sought-after consultant and strategist
Jeni Britton Bauer - Founder and chief creative officer of Jeni's Splendid Ice Creams
Annie Duke - Professional poker player turned bestselling author
Shaka Smart - Head men's basketball coach at Marquette University
RC Buford - CEO of Spurs Sports & Entertainment
Major General Dan Caine - Director of Special Programs and the Department of Defense Special Access Program Central Office (DoD SAPCO), the Pentagon
The Daily Stoic Leadership Challenge: Ancient Wisdom For Modern Leaders is a masterclass in leadership with the cadence and rigor of a bootcamp. It is now a recorded course, which means all participants will join the course and move through it at their own pace.
If you have any questions, email dailystoiccourses@gmail.com
**Due to the limited availability of the guests we selected, the day of the week and the time of day of the Leadership Deep Dives will vary week to week. If it is ever the case that you cannot attend, we will be recording all of the live sessions to be watched and rewatched at your convenience.